GCF GROUP IS THE NUMBER 1* FRENCH PRODUCER USING TRADITIONAL METHOD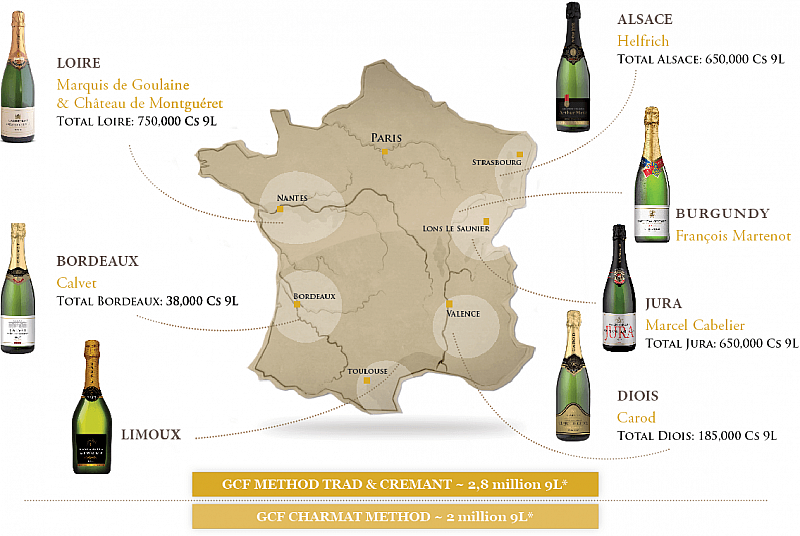 (*Excluding Champagne)
MÉTHODE TRADITIONNELLE

Also called Méthode Champenoise, this method was invented in the Champagne region by the famous monk Dom Perignon. Since then, it continues to be used in Champagne and other regions (Alsace, Loire, Bordeaux and Jura) which make Crémants. After primary fermentation and bottling, a second alcoholic fermentation occurs in the bottle. This step lasts between 11 and 36 months.

This second fermentation is induced by adding several grams of yeast and several grams of the famous liqueur de tirage.

CHAMPAGNE

Champagne is a sparkling wine produced from grapes grown in the Champagne region of France following the rules of the appellation. It can only be produced in the Champagne region.

CRÉMANT

Crémant is a sparkling wine following the same production method as Champagne. It can be produced in :

Alsace

: Pinot Blanc, Pinot Gris, Pinot Noir, Riesling, Auxerrois or Chardonnay (12 to 18 months)

Bordeaux

: Sauvignon, Sémillon or Muscadelle (11 to 18 months)

Loire

: Chardonnay, Chenin blanc, Cabernet Franc, Cabernet Sauvignon or Pinot Noir (12 to 18 months)

Jura

: Poulsard, Pinot Noir, Chardonnay or Savagnin (11 to 18 months)

CHARMAT METHOD

8 to 15 days fermentation for Ordinary Sparkling Wines (VMO) and more than 6 months fermentation for Quality Sparkling Wines (VMQ)

CARBONIC METHOD

It is an addition of CO2 directly into the bottle.